After reading the book,

"Its not About the bike by Lance Armstrong"

, I am just totally amazed at Lance Armstrong's personality,his courage, determination and strength in fighting testicular cancer, which should have, according to the poor odds against him (which was less than 3%), killed him. Lance, instead of becoming a victim, chose instead to be survivor and come out a winner and he says he would choose the battle of cancer anyday over the Tour de france…. Till a while ago, all i knew of him was that he was the great cyclist…
Lance Armstrong, one of the world's most famous cyclists, shares the story of his life, his battle with cancer, and his amazing victory over it. He had become one of the best and then, at the age of 25 and on top of the world, he was hit with the diagnosis: testicular cancer.

This book is a story of inspiration that took me through various emotions – brought tears of empathy, of compassion, joy when he succeeds and triumph when he comes out a winner. This is one man's story of incredible challenge of digging down deep for inner strength in managing and conquering cancer. Lance refused to become a number/cancer victim and instead rallied and became cancer's worst enemy.He survives the surgery and endures grueling chemotherapy day after day not letting the disease eat him . He refused to give in and chose to fight the disease with all that he had. I admire his love and admiration for his mother,Linda, who continues to be one of his strengths in his life,who believes that if she is with him,nothing will happen to him.I look up to Kik aka Kristen, his wife and pillar of strength who literally went through all that he did, moved when he wanted,learnt a new language because France was where he was to train for the Tour and stood by him through it all. Amazing woman is what she is..And when they came to a point where they wanted kids and she had to undergo IVF to retrieve his frozen sperms, the wait, not knowing if she would get pregnant, staying alone while he went training are all instances that makes me respect and look upto this woman….He was very fortunate, as well, to have some close caring loving friends support him throughout his entire ordeal.
"The one thing the illness has convinced me of beyond all doubt – more than any experience I've had as an athlete – is that we are much better than we know. We have unrealized capacities that sometime only emerge in crisis. So, if there is a purpose to the suffering that is cancer, I think it must be this: it's meant to improve us" is a para that stays in my mind.. Shows how positive he stays and we all need to learn a lot from this….
The book takes us through the emotional and physical changes Lance undergoes as he fights over cancer as well as his emotional coping both during and after.All the trips he had to make between home and hospital, the financial hiccups he endured,sponsors backing out,everyday fear of relapse…
This is a book of true courage and determination. Lance has also gone further to set up a foundation to help other cancer patients manage and survive their cancer. He proves that the power of the mind, combined with taking control of one's disease, seeking different opinions and doctors, and becoming an expert on the topic can help one overcome and conquer cancer.His progress is described in the book. Lance had fully recovered, and not only that he went back to cycling. Two years after his recovery, he won the Tour de France race."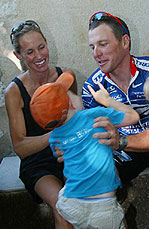 Finishing this book, I have nothing but awe and admiration for Lance Armstrong. Thanks to him for being an inspiration to everyone and with his work with cancer patients. The world needs more role models like Him..
When you read this book, you will realise that we are all so fortunate and so lucky and yet we complain and crib …. So think twice before complaining about what you dont have or what God hasnt given you.. 🙂

Aaarti (c) 30th April